Used File Cabinets for Sale
File cabinets are an often under-appreciated, yet crucial, part of almost every office. Just like any other piece of office furniture, file cabinets should fit in with the aesthetic of the rest of your office space. If not, they can stick out like a sore thumb. To find used file cabinets from premier brands for a price that won't break your bank, come to LW Office Furniture.
Whether your office is located in the Louisville, Lexington, or Cincinnati area, you can trust LW Office Furniture as your source for the right type of filing cabinet for your unique office space. Our showrooms in Cincinnati (just down the road from Summit Park in Blue Ash), in Louisville (on Shepherdsville Road near the GE Appliance Park), and in Lexington ( located between Winchester Road and E Main Street) feature tons of options for document storage needs.
Browse our current inventory of new and used file cabinets.
Find something you like? Instantly see how many are available across all locations.
Types of File Cabinets
Most offices need storage of some sort. Whether it's papers, office supplies, products, or more, file cabinets serve to store a range of items you don't want cluttering up your workspace. Here are several common types.
Letter
Letter size is the standard size of printer paper: 8 ½ x 11 inches. This is the most common size of filing cabinet and a great option for many types of office setups.
Legal
Legal size is the same width as letter size, but longer: 8 ½ x 14 inches. Some companies need to file legal-size documents, while others do not. Consider whether or not legal-size paperwork will be part of your regular business paperwork.
Vertical
Vertical file cabinets stand upright and usually consist of at least four drawers. These common cabinets are great for smaller office spaces and accommodate letter-size documents. The standard size is usually 15 inches.
Lateral
Lateral filing cabinets, on the other hand, are designed to sit horizontally and can house both letter and legal-size paperwork. These can be a variety of sizes.
Mobile
If you're designing a mobile office space or have employees who need to collaborate frequently, it makes sense to seek out filing cabinets with swivel wheels. These can be easily moved between desks and offices.
Locking
Filing cabinets with locks are a must if your documents need privacy. Locking cabinets are also great for employees to store their personal items such as wallets, phones, and purses.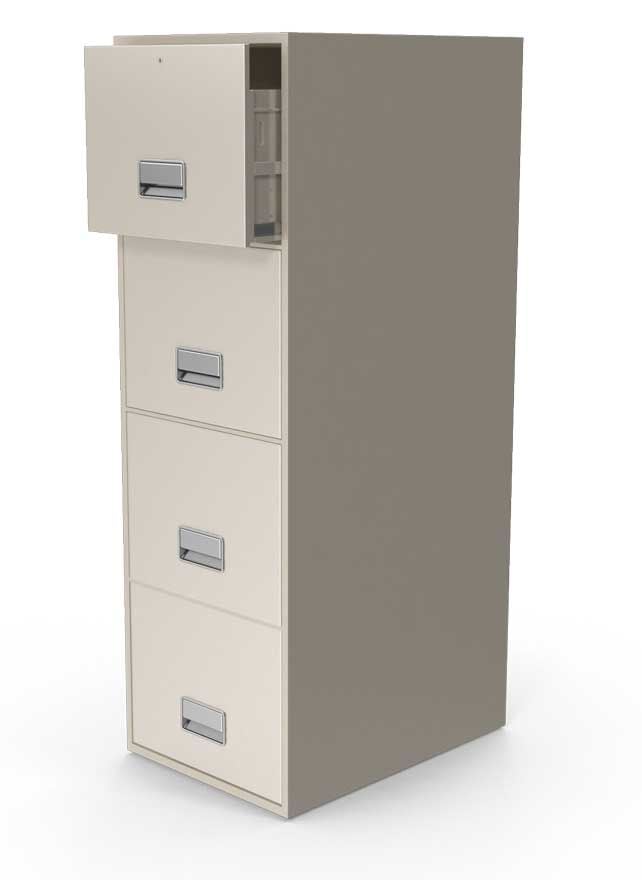 File Cabinet Materials and Designs
Metal
Filing cabinets made of galvanized steel are standard in a lot of offices. These cabinets are built to be durable and some are even fire-resistant and/or waterproof. They are usually featured in modern and industrial office designs.
Wood
Wood file cabinets can be made of real wood such as oak or cherry, or a wood composite known as medium-density fibreboard (MDF). MDF cabinets can mimic the look of real wood or finishes. Dark brown, gray, white, or black are all popular MDF cabinet colors. Wood cabinets complement a variety of workspace designs including mission, farmhouse, and traditional.

Used File Cabinets at LW Office Furniture
Our inventory of file cabinets is extensive and includes different sizes, dimensions, and colors. In many cases, the used office furnishings that we have in stock are only gently used, meaning you can buy "like new" office furniture for up to 75 percent less than the cost of new furniture. In addition to used workstations, we always have a wide variety of other used office furniture pieces in our inventory such as desks, chairs, workstations, bookcases, tables, and waiting room furniture.
In fact, the LW Office Furniture inventory is one of the most extensive in the region with items being added on a frequent basis.
LW Office Furniture is a member of the Better Business Bureau and has showrooms open to the public in Cincinnati, Lexington, and Louisville. As a top furniture liquidator in the Midwest, we sell workstations, desks, chairs, and other types of office furnishings that are in superb condition and competitively priced. Every item that we sell is carefully inspected and repaired if necessary.
Our used office furniture professionals can also assist business owners with layout planning – ensuring they get the most out of their investments. The desks, chairs, workstations, and tables in our inventory represent a range of different styles and come from a variety of top name brands, including:
Contact us for more information or to visit one of our showrooms near you today!