Used Office Desks for Sale
If you have looked at the price of new desks for your employees, you may have been overwhelmed with some of the prices you found. It can seem like an impossible task to find high-quality used office desks that won't fall apart, but you don't want to bust your budget.
Whether your office is located in the Louisville, Lexington, or Cincinnati area, you can trust LW Office Furniture. Our showrooms in Cincinnati (just down the road from Summit Park in Blue Ash), in Louisville (on Shepherdsville Road near the GE Appliance Park), and in Lexington ( located between Winchester Road and E Main Street) feature tons of office desks just right for your team's needs and office space.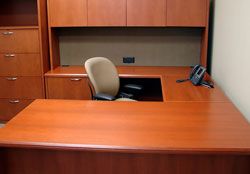 Browse our current inventory of new and used office desks.
Find something you like? Instantly see how many are available across all locations.
Types of Office Desks
The type of office desk you need will depend a lot on your workspace configuration and the type of work your employees do. Here are some of the most popular types.
Desks with drawers
Desks with drawers provide ample storage for files and office supplies. They can feature a single, shallow drawer in the middle under the work surface or a set of drawers on one or both sides.
Desks without drawers
These types of desks are perfect for coworking or hybrid office spaces. With minimal storage, they are ideal for a simple place to work from a laptop. These tend to work well in modern office space designs.
Desks with a hutch
Also called credenza desks, these combine a desk with a hutch that is filled with shelves and cabinets. If you have room for one, this type of desk gives you lots of options for both storage and display.
Executive desks
These massive desks usually feature drawers, a hutch, and/or extra workspace. They can be in an L-shape, U-shape, rectangular, or an entire desk system. Although modern designs and options are available, more classic styles have lots of intricate woodwork and supple finishes.
Standing desks
The growth in the popularity of stand-up desks is a result of discussions about how unhealthy it can be to sit for extended periods. People want an option other than the traditional office desk and chairs, and this type provides them with one. There are a few different types of stand-up desks including models that can be raised and lowered or static models which stay elevated no matter what.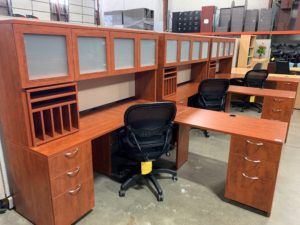 Used Office Desks from LW Office Furniture
In many cases, the used office desks we have in stock are only gently used, meaning you can buy "like new" office furniture for up to 75 percent less than the cost of new furniture. In addition to used office desks, we always have a wide variety of other used office furniture pieces in our inventory such as workstations, chairs, file cabinets, bookcases, tables, and waiting room furniture.
In fact, the LW Office Furniture inventory is one of the most extensive in the region with items added on a frequent basis.
LW Office Furniture is a member of the Better Business Bureau and has showrooms open to the public in Cincinnati, Lexington, and Louisville. As a top office furniture liquidator in the Midwest, we sell office furnishings that are in superb condition and competitively priced. Every item that we sell is carefully inspected and repaired if necessary.
Our used office furniture professionals can also assist business owners with layout planning – ensuring they get the most out of their investments. The desks, chairs, workstations, and tables in our inventory represent a range of different styles and come from a variety of top name brands, including:
Stop by one of our impressive showrooms today!
Used Office Desk Examples